Welcome to the Danish Center for Mentalization
Center for Mentalization aim to provide and facilitate knowledge about mentalization and the use of mentalization-based treatment and pedagogy in the treatment of neglected and traumatized children, adolescents and adults.
The Danish Center for Mentalization has a number of specialists associated, all working with the mentalization-based approach, each in their own specialty of the field.
We provide therapy for children, adults and families. We provide supervision for professionals, individually and in groups. Likewise we provide educational services ranging from single days up to longer educational programmes both for individual attendees and for groups of clients.
To mentalize is to have ones own and others mind in mind and being able to understand your own and mental states of other people. Mental states can be feelings, thoughts, needs, goals and beliefs. Mentalization provides meaning to behaviour, in the way, that there always are reasons for why we and others behave the way we do. Mentalization makes it possible among other things for people to relate, corporate, to understand and learn from each other.
The Mentalization Guidebook
Hagelquist, J.Ø (2015). The Mentalization Guidebook. Karnac Books.
The Mentalization Guidebook is a tool for working with traumatized and neglected people.
The Mentalization guidebook can be bought here: Karnac books and Amazon.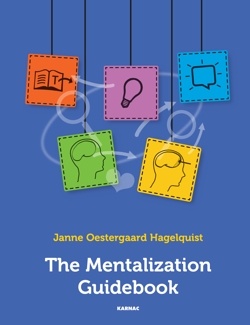 Sofie Kirkeløkke Svane
The next 7 days you can get 30% discount on all books at routledge.com. Here you can find "Mentalization in the Family" and "The Mentalization Guidebook". All you have to do is to enter the [...]
Sofie Kirkeløkke Svane
The Family Cycle: Breaking the Intergenerational Transmission of Trauma through Mentalizing https://www.tandfonline.com/doi/abs/10.1080/15289168.2020.1786762 The article provides a good overview of the mentalization theory and how this can be seen in the context of trauma psychology. Emphasis is placed on the importance of Adverse Childhood Experiences (ACE factors). In addition, there is a very good review of how to concretely work with asking about the ACE factors in the work with vulnerable parents. Based on a common understanding of what traumas and failures the parents themselves have experienced, work is being done to draw a family cycle. The model is designed to help vulnerable parents and their children mentalize trauma and create an understanding of transgenerational trauma.   Learning to mentalize: A mediational approach for caregivers and therapist https://onlinelibrary.wiley.com/doi/abs/10.1111/cpsp.12334 The article provides an overview of the current standpoint of the mentalization theory. Furthermore the article presents a model that can be used in practice. The model addresses five components: Focus, create meaning, expand, regulate and reward. […]
Sofie Kirkeløkke Svane
We are so happy to announce that our book "Mentalisering i Familien" now is published in english with the title "Mentalization in the Family" https://www.saxo.com/dk/mentalization-in-the-family_janne-oestergaard-hagelquist_paperback_9780367221027