[fusion_text]The book Mentalization-Based Treatment for Children: A Time-Limited Approach is a very appreciated and well-written book about mentalization-based treatment for children.
The book is filled with very good chapters for professionals working mentalization-based with children and families.
The first chapters of the book are a light review of the concept of mentalization as well as the development of mentalization in relation to children and families. Subsequently, the authors description of their model for time-limited mentalization-based therapy for children (MBT-C) follows. Further, it is described how to work with the "attitude", determine the mentalization-ability of the family and apply this determination in the structure of the treatment. Very nice chapters about therapy with children follows – including mentalization-based play therapy. In the end of the book it is illustrated how to work mentalization-based with parents and family, just as there is a chapter about the ending of a treatment.
The book is filled with cases that are illustrative, but it is also characteristic of a very respectful and considerate approach to neglected and traumatized children.[/fusion_text][imageframe lightbox="no" lightbox_image="" style_type="none" hover_type="none" bordercolor="" bordersize="0px" borderradius="0″ stylecolor="" align="none" link="" linktarget="_self" animation_type="0″ animation_direction="down" animation_speed="0.1″ animation_offset="" hide_on_mobile="no" class="" id=""]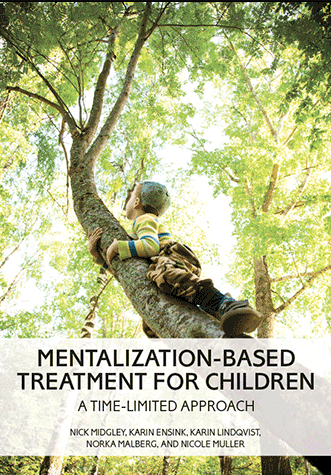 [/imageframe]